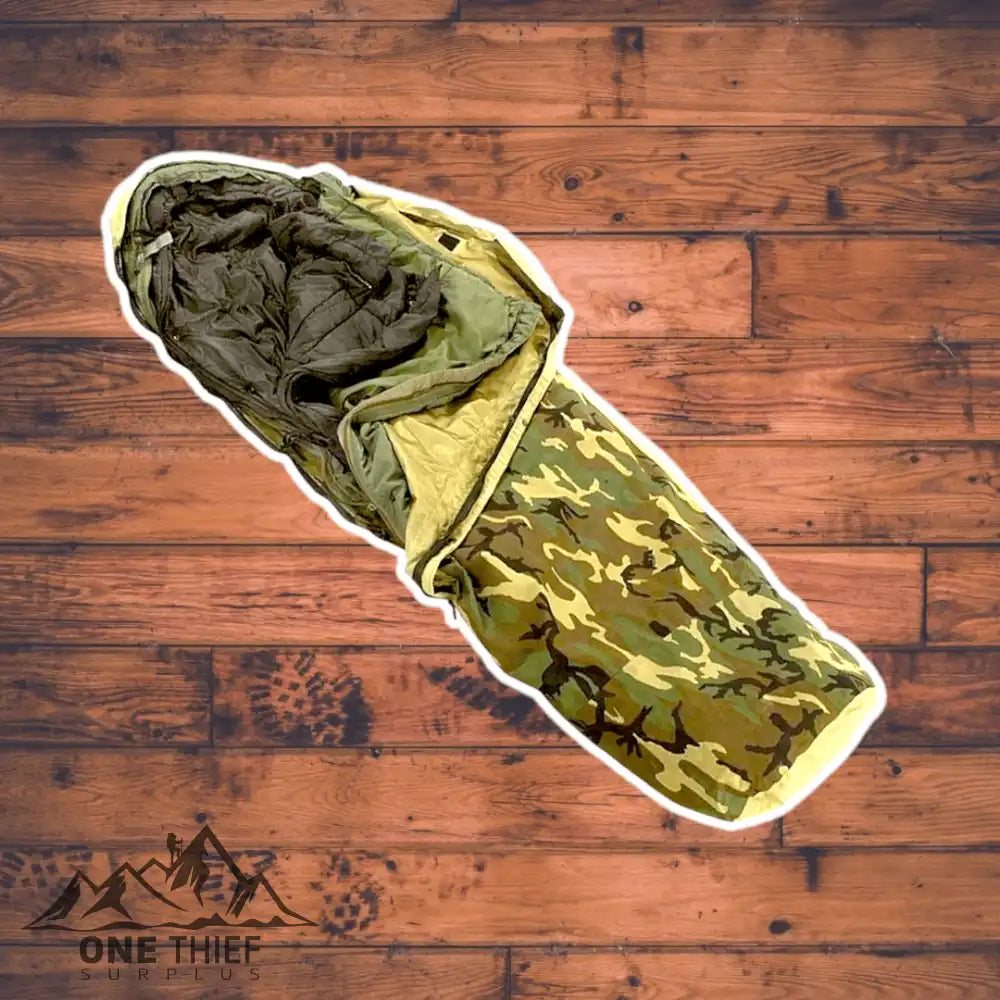 Modular Sleep System (MSS)
Regular price
$215.00
Sale price
$185.00
Unit price
per
CONDITION: GOOD TO VERY GOOD. No holes! may show minor cosmetic defects such as light soiling, staining, and other cosmetic flaws. 
Introducing our versatile Modular Sleep System, complete with the Green and Black Bags, Woodland Bivvy Cover, and Black Compression Sack. Whether you're an avid camper, hiker, or a tactical enthusiast, this comprehensive sleep system has got you covered.
The Green Bag, designed for milder temperatures, offers exceptional comfort and insulation with its lightweight yet cozy design. Its vibrant green color ensures easy identification in the great outdoors. The adjustable hood and drawstrings provide added warmth and protection for your head, ensuring a restful night's sleep.
For colder climates, the Black Bag is the perfect companion. Its rugged black nylon shell offers durability and resistance against the elements, while the insulating properties keep you warm even in harsh conditions. The integrated hood and cinch cords allow for customized fit and heat retention, ensuring a cozy and secure sleep environment.
But that's not all - our Modular Sleep System also includes the Woodland Bivvy Cover, a must-have for added protection. With its woodland camouflage pattern, it seamlessly blends into natural surroundings. The cover is waterproof and windproof, keeping you dry and sheltered from the elements. It serves as an excellent outer layer for your sleep system, providing an extra barrier against moisture and ensuring a comfortable night's sleep even in challenging conditions.
To keep your sleep system organized and compact, we've included a Black Compression Sack. This sturdy sack allows you to easily compress and store your bags when not in use, minimizing the space they take up in your pack. It's a convenient and practical solution for those who value efficient gear organization.
Whether you're embarking on a solo adventure or planning a group expedition, our Modular Sleep System with the Green and Black Bags, Woodland Bivvy Cover, and Black Compression Sack offers exceptional versatility, comfort, and protection. Embrace the great outdoors and experience the ultimate in sleeping performance with our comprehensive sleep system.
These sleeping systems provide comfort from 50 degrees to -30F!
Please note that colors may slightly vary from the images shown.
Bivy cover seams
Every taped seam needed repair. To reattach the tape to the seam use a hot iron to melt the dried out glue. That works pretty well to reseal the seam. If you need to replace a section of tape then you'll need this from Amazon, (Waterproof Iron-on Seam Sealing Repair Tape for Gore-tex Wetsuit Drysuit Fabrics (Dark Gray). This is like the original tape except color.
Otherwise the Sleep System was in used very good condition, clean with no tears, rips, etc., etc..
Recently viewed products
Continue where you left off