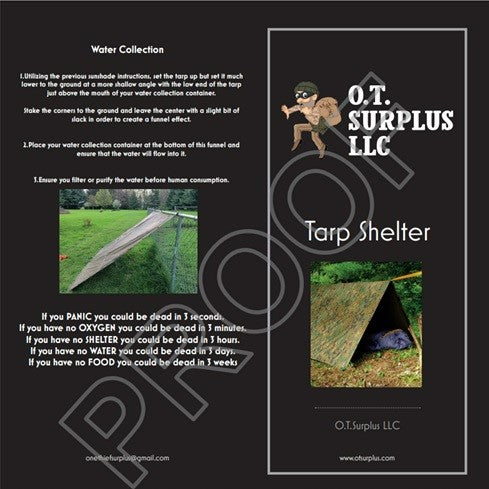 What is a Tarp Shelter?
A tarp shelter is the most basic and often one of the most cost effective and flexible shelters that one can make and carry. A tarp shelter generally consists of cordage and a tarp of some sort. Depending on the size of the tarp they can be cast as an A frame, a simple lean-to (wind break and/or heat reflector), as a rain catchment system, a simple shade system, field expedient ground blind, really anything that you can imagine.
Our tarp shelter kit comes complete with everything you might need for a day at the lake, a weekend hunting, or simply a light-weight shelter for those long cross country motorcycle rides. We did our best to keep it light weight yet as flexible as possible regarding emplacement and usage. We wanted to ensure easy and fast deployment.
We started with a USMC field tarpaulin in good condition and added 10 7075 aluminum tent stakes, a generous 25' ridgeline, 4 10' guy-lines, a low-profile water-resistant carry bag, instructions, and a small waterproof bag to keep your instructions and lines waterproof. We also ensured that there is ample room in that small bag for tinder, fire starter, and in the main carry bag, room for a water bottle and emergency food like a lifeboat ration.
We believe that for the money, you will be hard pressed to find a better kit since the tarpaulin we include is also coated on one side for fire resistance. Sparks from your campfire ruining the watertight integrity of your tarp will be a thing of the past.  Most foreign produced tarps are in the price range that we are selling these at, however, they are not a complete kit, and they are not made in America.
These kits are perfect for bank fishing with your kids/grandkids, emergency shelter in your motorcycle saddlebag, the trunk of your car, or in your bug-out bag. Our entire kit weighs in well under 3lbs.
USMC Complete Tarp Shelter Kit | Authentic USMC Surplus for Outdoorsmen (otsurplus.com)
https://youtu.be/2zOuMBkh-7k